The Netgear Orbi AC2200 is an Impressive Mesh-Router System designed to cover maximum range while squeezing every bit of throughput to provide maximum speed for all users.


This is one of the most user-friendly Wi-Fi routers in the market today. Setup is incredibly easy for a highly advanced wireless router system, making the Orbi AC2200 a perfect router for the modern family.


The Orbi AC2200 is a slightly more affordable version of the previous Netgear Orbi model. It took the essential features and performance of the original Orbi and removed some of the high-end features of its predecessor.


The AC2200 is fine-tuned for optimum home performance and is as close to a "plug and play" router as you will get.
Netgear Orbi AC2200 Main Features
Quality
Built-in Netgear Armor Anti-Virus
Speed
2.2 Gbps speeds and 6,000 square feet of coverage
Design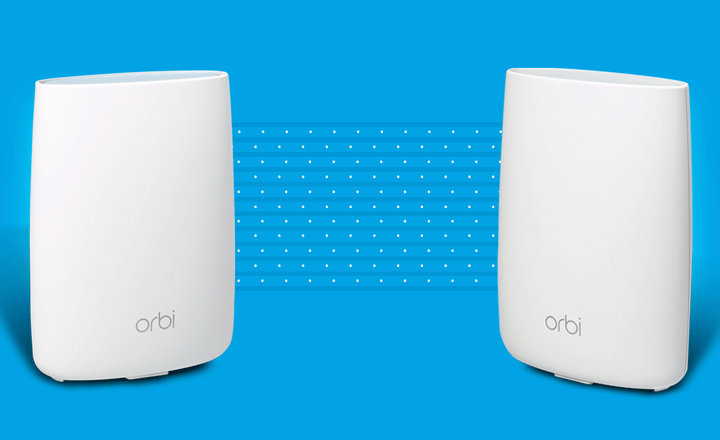 One of the Netgear Orbi AC2200's unique feature is its easily recognizable design. With a sleek, friendly, smooth design, the Orbi AC2200 is quick to spot and perfectly encapsulates its family-friendly characteristics.
This version of the Orbi wireless router is also considerably more compact compared to the original.

The Orbi AC2200 measures 8.9 x 6.7 x 3.1 inches and won't take too much space wherever you decide to set it up. The unit comes with four Ethernet ports with one having a yellow highlight – this is the port that you use to connect an existing modem if you have one already.

Due to its smaller size, the Orbi AC2200 needs to remove some of the features found in the original model. For example, this version offers fewer ports. But since this version is designed for casual family use, having fewer ports won't be much of an issue for its target customer.
The Netgear Orbi AC2200 is an excellent wireless router designed for casual internet users. It may be designed for casual use, but its performance can easily rival that of some of the high-end routers in the market.
Netgear Orbi AC2200
Setup
The Netgear Orbi models always took a user-friendly approach when it comes to how they are set up.
The Orbi AC2200 is compatible with both iOS and Android systems which makes the setup more convenient. Using the app is pretty straightforward, as well.
It is also great to know that the app will automatically set IP addresses to a number that will not clash with your modem.
This is an issue that several router installations come across, which is fortunately addressed by Netgear with this unit.
One thing I would like to note is how limited the contents of the instruction manual was.
I guess this can be attributed to Netgear's confidence with their user-friendly system, but what about the off chance that something malfunctions?
Well, the Netgear troubleshooting forum is available, but I feel this is an oversight on the manufacturer's side.
Functionalities and Features
The Orbi AC2200 comes with the latest MU-MIMO wireless technology, which allows it to deliver optimum speeds with different devices simultaneously.
Inside this router is a 710-MHz quad-core ARM-based processor. The processor clocks 512MB of RAM with 4GB of solid-state storage space.
It also utilizes the Qualcomm IPQ4019 control chip and radio to round off its state-of-the-art system.

With all of these features in the Orbi AC2200, it quickly takes its place alongside the most powerful wireless routers in the market today.
The Orbi AC2200 was able to hold a steady speed of 552Mbps within a range of 5-feet.
This is an impressive feat that helped pushed this router past the average rate of its competition.

As we tested the Orbi's performance at farther distances, we noticed a slight dip with its speed but was not noticeable.
For example, at 15-feet away, it only saw a drop of 40Mbps with a throughput of 511Mbps.
At a maximum of 100-feet apart, the Orbi still managed to maintain the performance of 370Mbps.

The router experiences such a slow rate of speed decline in regards to distance.
I think it is safe to assume that Netgear's claim of the Orbi AC2200 having a maximum range of 6,000 square feet holds some merit.
But what about when obstacles such as walls are placed?
You will be happy to hear that the AC2200 is powerful enough to easily pierce through drywall and meta framed walls with relative ease. We noticed a slight drop in speed, but nothing substantial.

The Orbi comes with a companion app as well. The app is available for both Android and iOS devices. As for the app's features, it is bare-bones with only
the essential elements included. Netgear did release a statement that they will further improve upon the app down the road.
For the time being, you will need to go to the browser's local interface for a more in-depth diagnostic and control.

If you wish to customize your experience with the Orbi AC2200 fully, I suggest you use the browser interface or the Netgear Genie software.
The Orbi app, however, will suffice for most users who are not well-versed in setting up their network.


Wi-Fi : 802. Hac Tri-Band
Ports: Four 1Gps LAN, USB 2.0, Power Outlet
Processor: Quad-core ARM 710MHz
512MB RAM
4GB Storage
Wi-Fi Chip: Qualcomm IPQ4019 and
QCA9984
Conclusion:
For home use, few can match up to the convenience and simplicity of the Netgear Orbi AC2200. Not only that, but its unassuming design hides one of the most powerful Wi-Fi router-extender kits currently in the market.
While the companion mobile app is pretty simple when it comes to its features, you can always go to the browser interface for a more personalized setup configuration.Overall, the Netgear Orbi AC2200 is an excellent wireless router for families and home use.
If you want a router that is easy to set up but with immense power and speed behind it, the Orbi AC2200 might be the router to suit your needs perfectly.